Veteran actor Anupam Kher is helping many people during the time of pandemic. Anupam Kher in partnership with Doctor Ashutosh Tewari and Baba Kalyani have begun an initiative called "Project Heal India". Dr Ashutosh is the chairman of urology at the Icahn School of Medicine at Mount Sinai Hospital in New York City and Baba Kalyani is Managing Director of Bharat Forge.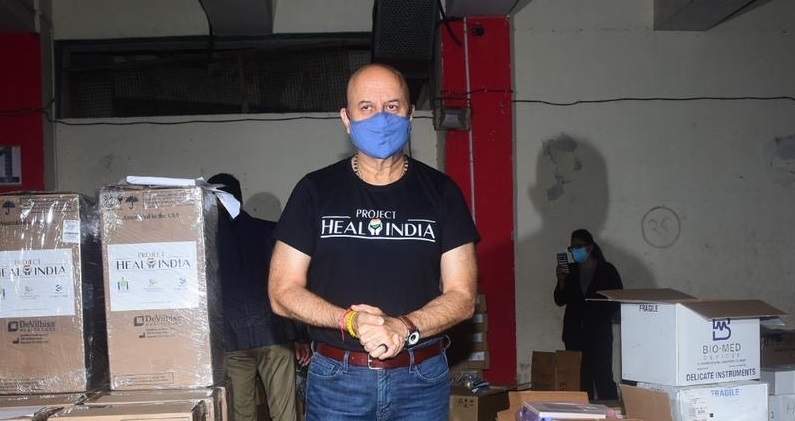 Through this initiative they are going to provide medical needs like Cross Vent Ventilators, Medtronic Ventilators, oxygen concentrators to all the needy institutions and hospitals all over India. The initiative will also be providing funds, medicines and helping the community with relief materials.
Anupam Kher said, "Numerous people from around the globe reached out asking of ways to be of help but Dr Ashutosh Tewari was one of the first to come up with a plan. This gave me the needed push to take this onward and provide service to our nation. As India is reeling under a huge crisis, it is our moral responsibility to pick up the mantle and do our bit."
Veteran actor Anupam believes that the central government has "slipped" somewhere in its management of Covid-19 crisis. He said, "The government should focus more in providing relief right now than managing their own image and perception. It is important for the government to rise to the occasion and do things for the people who have elected them."
He also said that the dead bodies floating in the river Ganga (holy river to Hindus) have increased, leading to doubt that they might be those of COVID-19 patients. "Only an inhuman person will not get affected by the dead bodies floating in the rivers", he added.
Recently, Anupam Kher and his wife Kirron were spotted at vaccination centre, Mumbai. Both have taken the second jab of vaccination.
During the time of pandemic, the cases of anxiety (type of mental illness) is also increasing day-by-day. Anupam promised people 'Project Heal India' will also be working towards mental health issue.